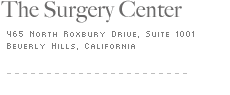 Our facility is a freestanding ambulatory surgery center situated in the "golden triangle" of Beverly Hills. The elegant penthouse setting affords extraordinary views of Beverly Hills, Bel Air, and the Hollywood Hills. The Rox-San building is a local landmark located on the corner of Roxbury Drive and South Santa Monica Boulevard.

The Roxbury Clinic & Surgery Center offers a comfortable setting and is fully equipped with the most advanced surgical and anesthesia equipment available in outpatient centers.

It is well suited for all surgical specialties including Ophthalmology, Ear, Nose and Throat Surgery, Gynecology, Colon and Rectal Surgery, Orthopedic Surgery, Podiatric Surgery, and Plastic and Reconstructive Surgery.